1
« on: January 21, 2009, 07:02:51 am »
As the subject says, my KDE desktop is too large for my screen
I think it's best described in a picture (sorry about the quality, i took this picture in a hurry)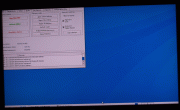 As you can see all four corners are extended off the screen, so I can't see my full desktop. AFAIK MCE fits perfectly on the screen, just KDE that doesn't.
While I'm at it, I might as well ask a networking question
Is it possible to connect MCE to the net via my wifi. I've tried configuring it but it only gives me WEP encryption and won't even list any SSID's for me to connect to.